Fortnite Sign
Fortnite Sign
My Son is huge into Fortnite as am i honestly! Its a fun game we can play together and he loves playing with his friends. As im sure many of you know!!! This is one of my first projects with my new Maslow and i love it! It took quite a few hours to run. I ran into a slight bump issue on the O but just a little chisel fixed the issue and i was good to go! This is my first project upload and first time uploading to GitHub so bare with any missing info!!
Check out the Instruction File for Easel Link and Basic Instructions!
Materials
4x8 1/2" MDF
Drywall Joint Compound
Kilz Oil-Based Primer
Sanding Blocks (120, 150, 220 grit)
Black & Purple paint
Photos
A few hours into the Cut and all is well! You can see on the first O that theres some left over that got missed on what i think we just a catch in the chain but i wasnt in the room to be certain!
Maslow has finished the cut and i removed the supports, now to begin the sanding tons of sanding. Honestly it wasnt too bad
So one of the things i know about MDF is its lovely ability to take in water and then destroy itself! So i read that lot of cabinet makings will seal the edges on MDF with some drywall Joint Compound. So i began the lovely task of running a thin seal around all the cut edges of the sign. This was all the edges so that was fun, and then i put some mud in the letters since i carved into the MDF and had lots of little fuzzy parts. This mud created a nice seal and solved the problem of the fuzzies ruining the paint job.
First layer of Black Paint, i thought i grabbed a picture of the layer of Kilz but i guess not. Check out the video for a timelapse of all the 11 hours!
First purple coat has gone on! I put another coat of purple and then ran a smooth roller over the edges with black to catch any of the purple that bled over. I used a small brush to get the corners situated and then painted all the edges black.
Video Link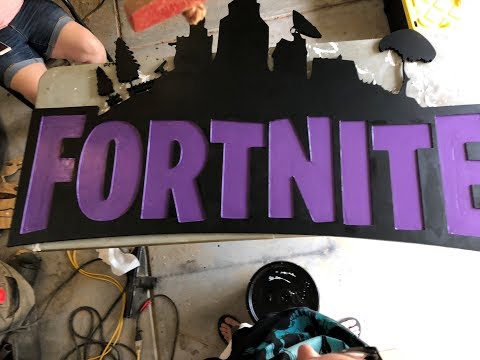 Fortnite Sign Instructions (Simple)
Open Easel here and make your changes for your specific machine setups as you like. Note: i should have edited some of the tree points to make them wider! Link: Inventables Easel Project
CUT!!!
Sand all the edges to get a nice smooth surface. Make sure to sand both sides of the signs and both sides of edges.
Use drywall joint compound to seal all the edges and the cut letters. Dont need anyhting thick just a thin layer.
Once dry sand all the joint compound to get a nice smooth finish with 150 or 220 grit.
Apply a coat of Kilz OIL-BASED Primer. DO NOT USE WATER BASED PRIMER!!!! Apply Again
Lightly Sand again to get a nice smooth platform for your paint.
Paint your interior letters first, i didnt do this but it owuld have made this quicker to dry and finish.
Paint another coat and then get all your corners with a small brush.
Once dry i would sand the edges of the flat top in order to get a nice smooth finish and remove any overage.
Paint your major color and wait to dry then apply another coat!
Paint all your edges and allow to dry!